List of Articles
Important Articles
Archives
Ms. Yu Higashisawa, Osaka University North American Center for Academic Initiatives (Liaison Officer) visits Toyonaka Campus to discuss the interfaculty agreement between UC Berkeley and OU (November 10, 2022)
Yu took time out of her busy schedule to visit us at Toyonaka Campus.
She was joined by Prof. Scott North (Regional Director, Osaka University North American Center for Academic Initiatives), Prof. Junko Kimura (Global Strategy Unit), Ms. Keiko Morikawa (International Affairs Division), Ms. Kyoko Ito (General Affairs Section) and Maggie Suzuki (International Planning and Promotion/IESC Office@OU) to discuss matters regarding the interfaculty agreement over lunch at one of the campus cafeterias.
We thank Yu for visiting us and hope that she will be able to meet with those who are involved at UC Berkeley.
It was a pleasure to meet and talk with Yu and we hope to visit her in California soon!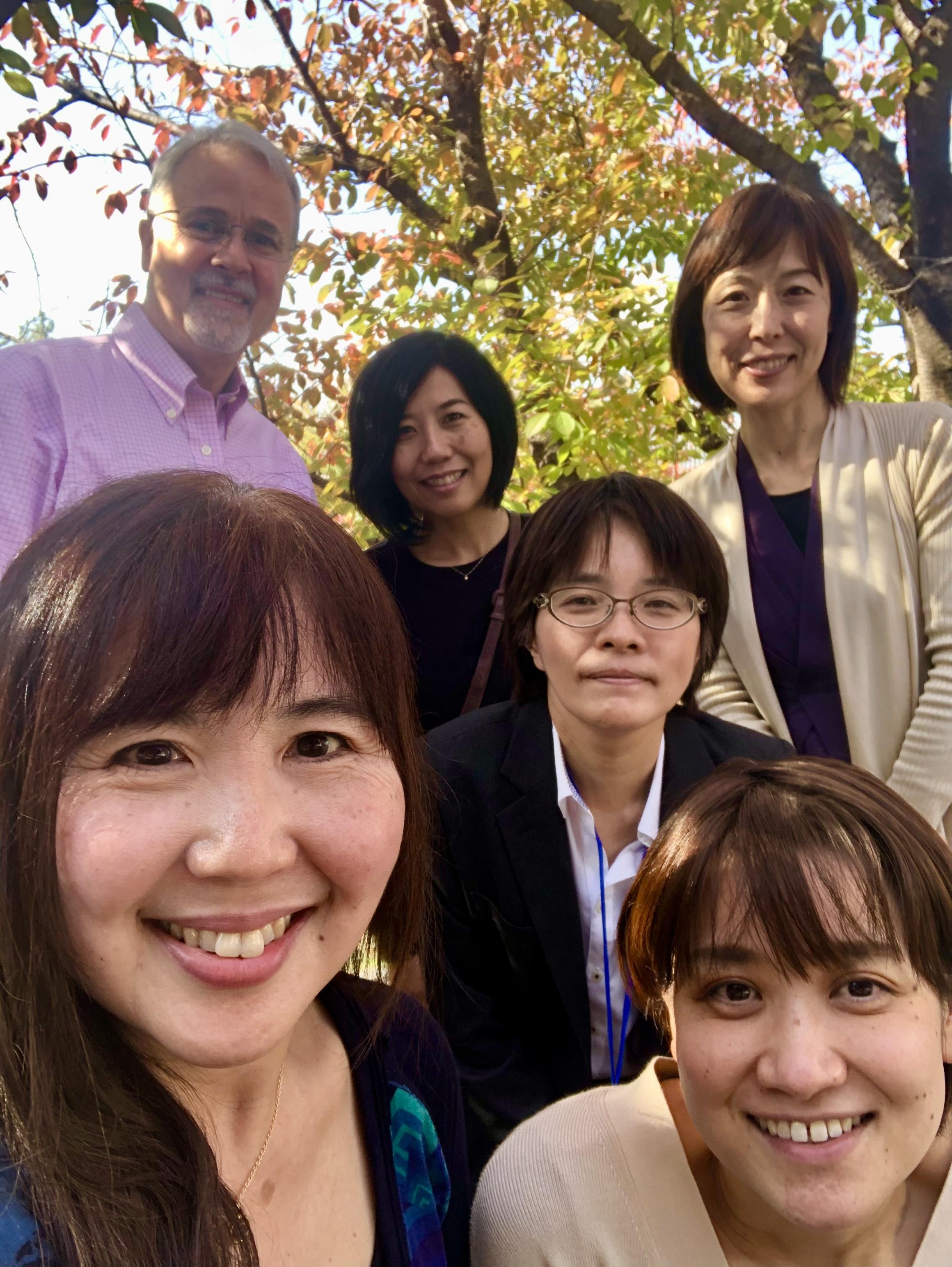 Top (left to right): Prof. North, Yu, Ms. Keiko Morikawa, Prof. Kimura Bottom (left to right): Maggie Suzuki, Ms. Kyoko Ito
National University of Singapore/Haruka Hirata (Sept. 1, 2022- Oct. 31, 2022)
Ms. Haruka Hirata, a fourth year undergraduate student at the Osaka University School of Engineering Science, participated in the Engineering Science Programme at NUS from September 1, 2022 to October 31, 2022 in Singapore. Haruka was invited to Professor Ho Ghim Wei's laboratory to do research on the Development of Photocatalyst for Solar Energy Conversion to Hydrogen. What a pleasant surprise it was for her when they threw a farewell party in her honor!
| | |
| --- | --- |
|    This is the certificate that was presented to Haruka          | Haruka was presented with the certificate for her participation in the Engineering Science Program (from left: Prof. Ho, Haruka, Prof. Birgersson) |
Students from the National University of Singapore come to the School of Engineering Science to participate in the FrontierLab Mini Program 2022 (May 9, 2022)
As part of the consortium exchange program, Osaka University is very happy to welcome and host four students from NUS to take part in the FrontierLab Mini Program 2022 from May 9 to July 31 after three long years of not being able to welcome any students to the program due to the pandemic. They will be working at their respective laboratories while at OU as well as experiencing the culture of Japan (and hopefully having fun!).
Here are a few pictures of their very first day at the School of Engineering Science: going through the necessary paperwork, taking out university insurance at the on-campus Post Office, getting to know what is where, meeting their host supervisors etc.
It is our utmost pleasure to have Jia Qi, Chuan, Liang Jun and Li Ren with us and hope that their stay will be priceless.
The Inaugural UQ-Japan Day/November 10, 2021
| | |
| --- | --- |
| | The University of Queensland, Australia, a member of the International Engineering Science Consortium, hosted the inaugural UQ-Japan Day event to promote exchanges with Japanese universities on Wednesday, November 10, 2021, 9:30-11:15am (online) |
Professor Masahiro Kitagawa of the School of Engineering Science provided insights on his current research during Breakout Session 1, entitled Quantum Information and Engineering Science. Professor Genta Kawahara also talked about the IESC; in addition, he offered his takes on the future of Osaka University, particularly on future collaborations between the School of Engineering Science and the University of Queensland.
Websitehttps://global-partnerships.uq.edu.au/uq-japan-day
PDF https://global-partnerships.uq.edu.au/files/84170/FINAL2_UQ%20Japan%20Day_Program%281%29.pdf