Osaka University Anniversary Lecture Series 2021
Osaka University will celebrate its 90th anniversary on 1 May 2021, while the 100th anniversary of the Osaka University of Foreign Studies, which was integrated with OU in 2007, is also this year. As one of our celebratory events, we will hold the Osaka University Anniversary Lecture Series, a special online lecture program offered to students at our partner universities. OU professors in a wide variety of fields ranging from the natural sciences to the humanities will conduct these lectures, and students will engage in discussions themed around the latest research.
This is the schedule of the lectures that the Graduate School of Engineering Science will be hosting.
We hope that this will nurture further interest in the fascinating field of engineering science and that many from all over the world will want to come to Osaka University to do research in the near future!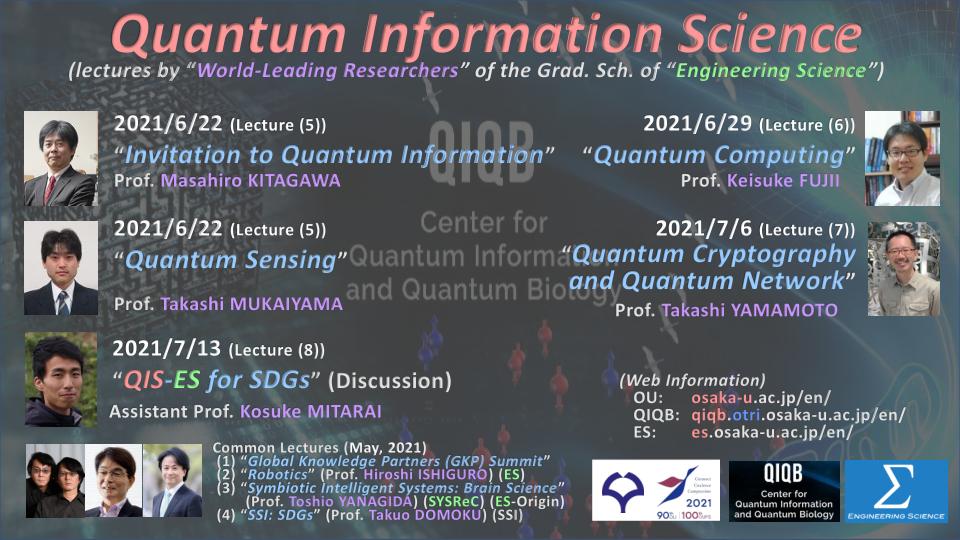 Students give presentations on what they achieved and experienced during their research/study abroad
Every year, Osaka University Graduate School of Engineering Science students go abroad to universities around the world to further their research projects, get first-hand experience at a renowned laboratory, take classes and get a taste of life as a student in a totally different environment. After returning from their study/research abroad, the International Planning and Promotion Office holds a presentation session where those students give a presentation on what they experienced both inside and outside the laboratory, how these differ from work done at Osaka University, the atmosphere, the people, the food, the culture etc. Almost all of the presentations go beyond the ten-minute limit as they have so much information to share! This year, due to the COVID-19 pandemic, this presentation session was done via ZOOM on October 7, 2020. There are usually around ten students giving presentations, but because of the border restrictions, we had two who were able to go and come back safely (Ms. Jin Han/UC Davis and Takuto Shimazaki/UofT), and one who experienced online presentation training (Naoki Ikushima/UC Davis) to explain to those students who are interested in studying abroad what they can expect to achieve, ending with questions about English proficiency, what they did on their free time, etc.
| | |
| --- | --- |
| | |

The presentation session for Osaka University Graduate School of Engineering Science students who went to study abroad from August 2019 to February 2020 was held on March 4, 2020. As the COVID-19 pandemic was just starting to take form, we decided to hold this in a large classroom, with hand sanitizers and masks ready for those coming to listen. Students doing research at the University of Toronto (IESC), KTH (IESC), ETH, and universities in France, Germany, and Switzerland all gave truly interesting presentations, and each were asked questions about their experience and how they enjoyed spending a few months abroad.
University of Toronto/Takuto Shimazaki (Sept. 2019- April 2020)
Mr. Takuto Shimazaki, a fourth year undergraduate student at the Osaka University School of Engineering Science, participated in the exchange studies from September 5, 2019 to April 25, 2020 at the University of Toronto in Canada. Takuto was admitted to the Faculty of Arts and Science as a non-degree exchange student through the Osaka University Exchange Program.
KTH Royal Institute of Technology, Sweden/Yuya Sanada (Aug. 2019-Jan. 2020)
Mr. Yuya Sanada, a fourth year undergraduate student at the Osaka University School of Engineering Science, participated in the exchange studies for the autumn semester (August 17, 2019 to January 15, 2020) at the School of Engineering Sciences at KTH Royal Institute of Technology in Sweden. Yuya was admitted to do course work for full-time studies.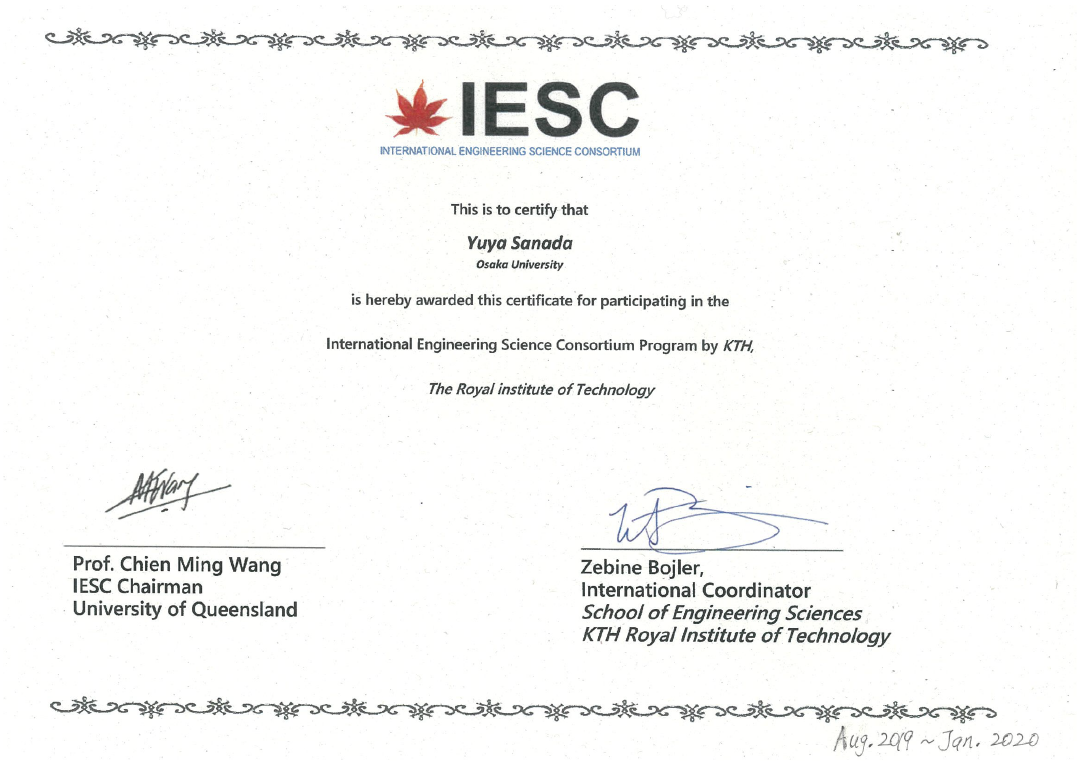 University of Toronto IVGS Program/Masatoki Sugimoto (Aug.-Sept. 2019)
Mr. Masatoki Sugimoto, a second year Master's student at the Osaka University Graduate School of Engineering Science, participated in the International Visiting Graduate Student (IVGS) research program at the University of Toronto from August 8, 2019 to September 27, 2019. His research was conducted under the supervision of Prof. Goldie Nejat.
Certificate Ceremony (July 24. 2019)
Every year, we welcome students from our consortium universities who participate in the FrontierLab Mini Program at the Osaka University Graduate School of Engineering Science. A Ceremony of Completion is held in the Dean's Office where they each receive their Certificate of Completion, and a commemorative photo is taken as well. We are always very happy to welcome such a wonderful group of students every year!
| | |
| --- | --- |
| 2019/07/24 | |
| 2018/03/23 | 2018/07/30 |
| 2017/07/21 | 2017/08/08 |
Report on International Engineering Science Consortium's inaugural symposium

Top-notch engineer scientists from many parts of the world convening at NUS Engineering for the IESC's inaugural international symposium. From Left to Right: Prof Nhan Phan Tien (Mechanical Engineering, NUS), A/Prof Anjam Khursheed (Electrical Engineering, NUS), Prof Jose Torero (University of Queensland), Prof JN Reddy (Texas A&M University), Prof Nick Tyler (University College London), Prof Genta Kawahara (Osaka University), Prof Wang Chien Ming (NUS), Prof Leif Kari (KTH Sweden), Prof Mark Kortschot (University of Toronto), Prof Ng Kim Choon (Mechanical Engineering, NUS) and Prof Andrew Bettiol (Physics, NUS)
ENGINEERING Science Programme at NUS has much to celebrate. Besides being all of 10 years old, Professor Wang Chien Ming, Director of the Programme, finally sees an initiative for an international symposium (something which he has set heart and soul upon some two years ago) came into fruition today.
The International Engineering Science Consortium (IESC) conducted its inaugural symposium today at the Engineering Auditorium, with nine keynote lectures by top-notch engineer scientists. In addition, 29 general papers and 12 poster presentations from faculty members and students of IESC are being featured at the two-day symposium which attracted 140 participants. There is also a student workshop as well as a competition to provide fun activity for IESC students and Ngee Ann engineering science students to showcase their creativity and innovativeness in solving engineering science problems. There were tours to the Marina Barrage, Gardens by the Bay and the Marina Bay Sands to show the beauty of Singapore.
The symposium provides a platform for faculty members and students from the Engineering Science Consortium to share their thoughts and ideas on various engineering science problems and solutions with one another.
Report on Student Workshop / Competition in International Symposium on Engineering Science
On the 20th May 2015, which was the second day of the IESC Symposium, the students from NUS Engineering Science Programme organized 2 activities for the Symposium's student participants. The first was a student workshop whereby 40 selected students were divided into three groups and were asked to discuss the following six topics:
1. What sparked your interest in ESP? Was there a particular incident that motivated this interest? 2. What specializations do you think ESP ought to have and why? 3. What do you find most enjoyable in ESP? Share your most memorable piece of advice/lesson/experience during your study in ESP which made a great impact on your life/ influence the way you make future decisions? 4. Compare your current self to the one before entering university. Which aspect(s) of you did ESP change for the better? In another words, how has ESP shaped you for the better? 5. How do you see yourself compared to students from other traditional engineering or science programs? Why? 6. In your opinion, what is the most unique selling point of ESP? What advice do you have for those looking to join ESP?
The participants freely discussed and shared their frank opinions and were able to confirm that they have almost the same conceptual understanding of the engineering science and its future direction. However, they were also aware that the education styles differ from one university to another.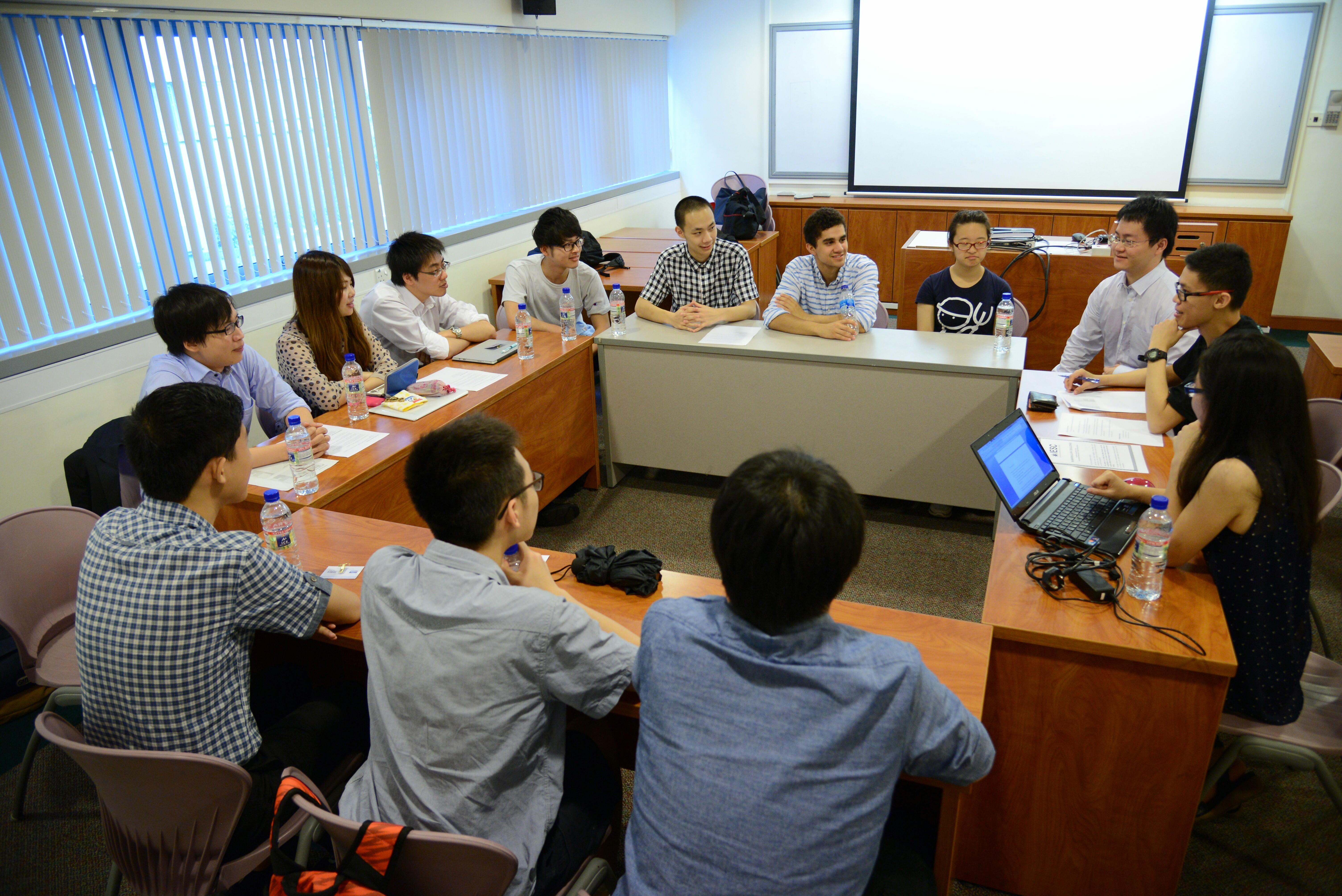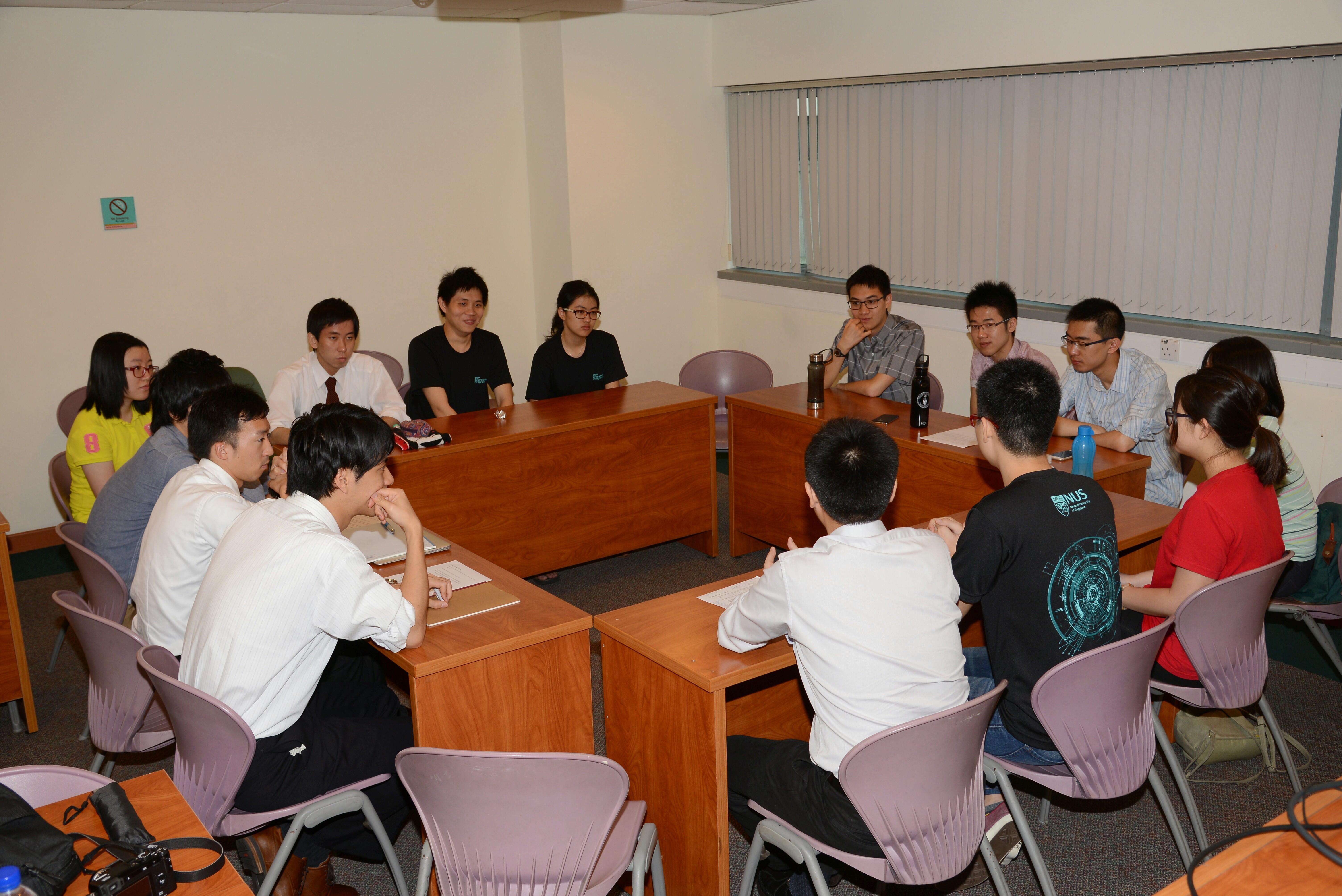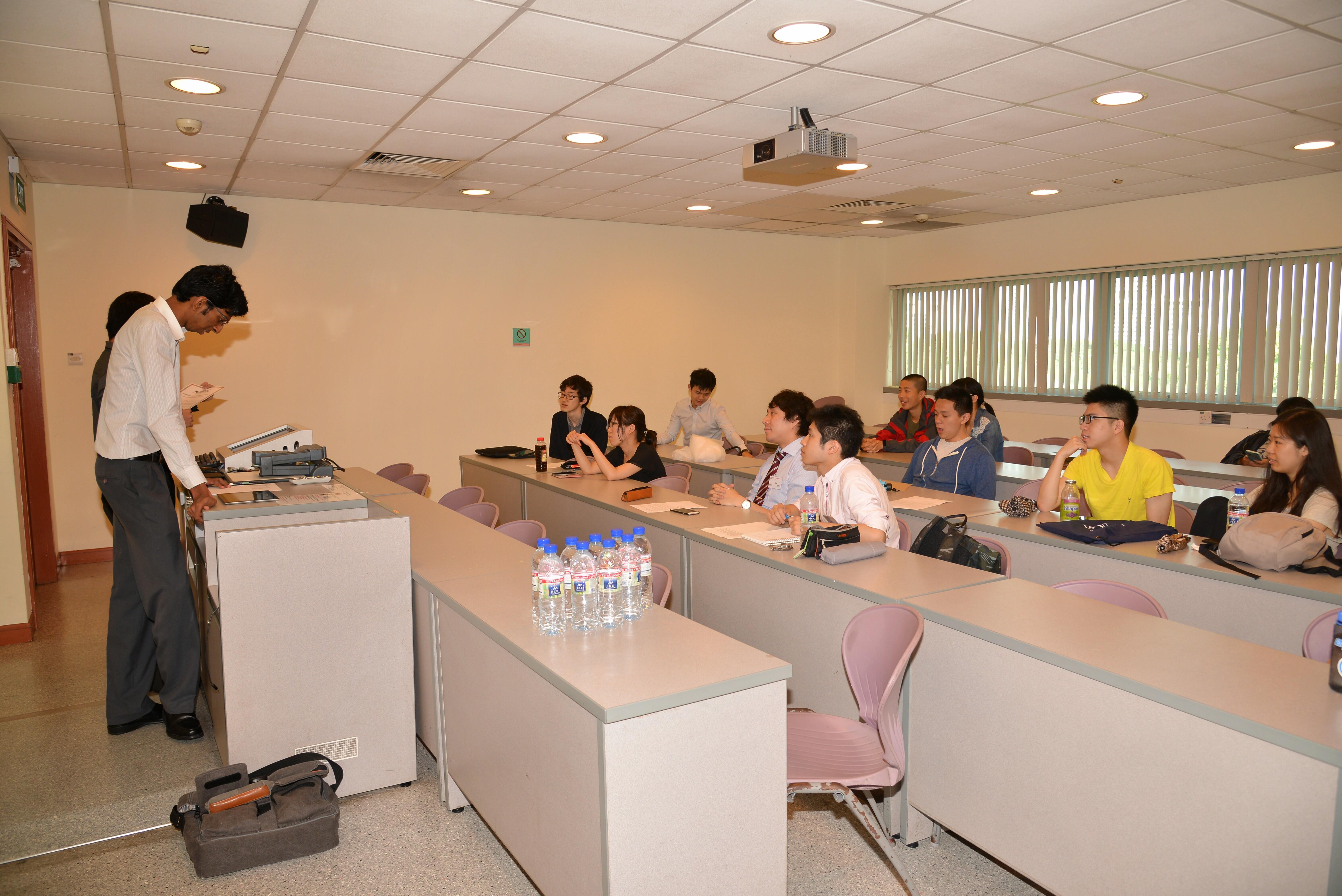 The 2nd activity of the day was a student competition entitled "MARSHMALLOW CHALLENGE". The students, in teams of 4, were given a bag of spaghetti, a long string, a roll of masking tape, a pair of scissors, two sheets of paper, two pencils and a piece of marshmallow. The teams competed to build the tallest structure with the marshmallow at the crown of the structure within 20 minutes without borrowing any support from the room's ceiling! The judges used a measuring tape to determine the height of the structure (i.e. the vertical distance from the base to the marshmallow).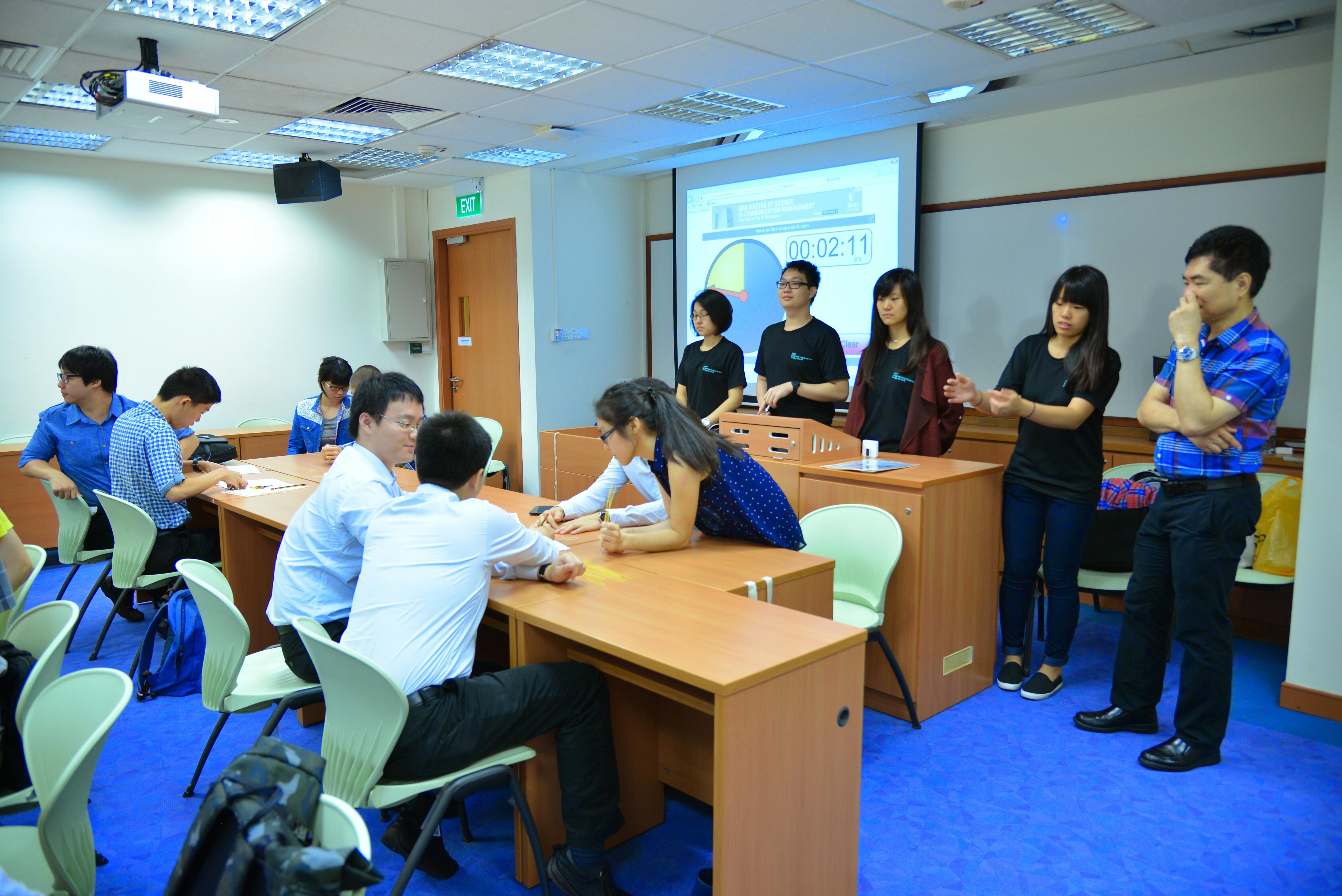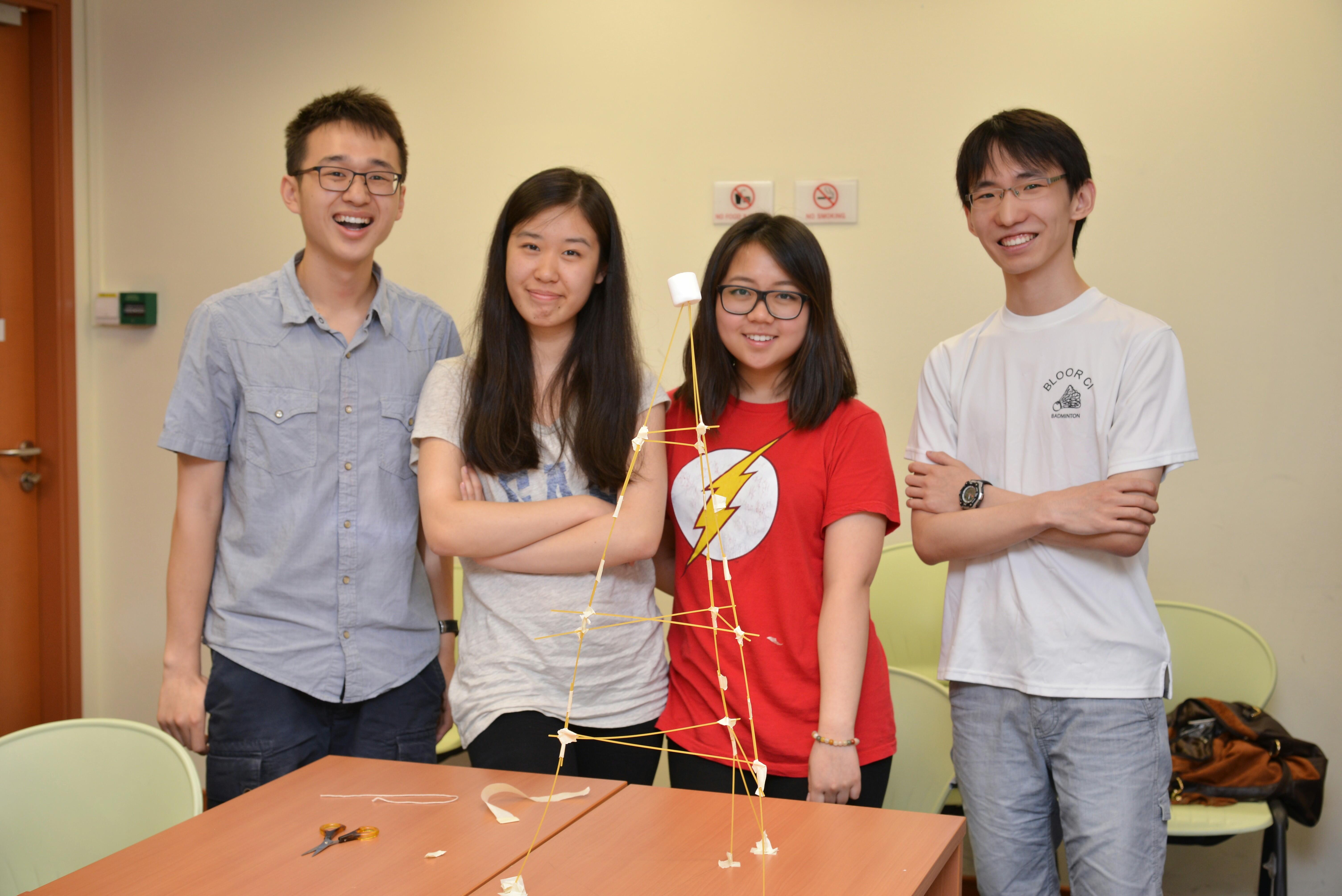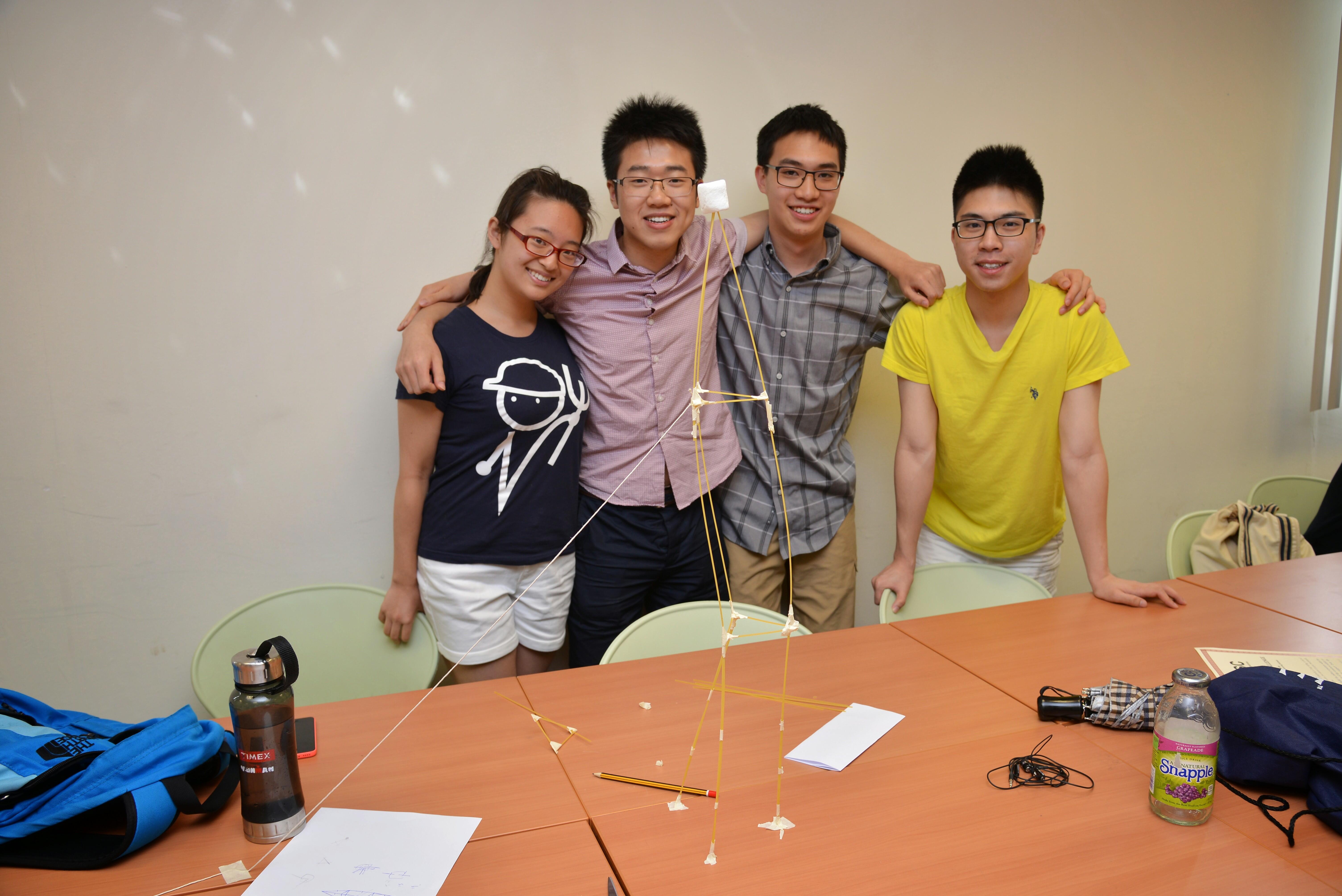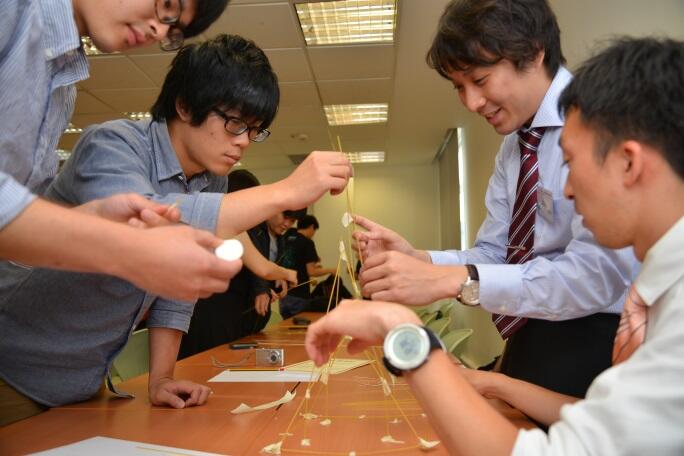 There were 9 teams in total (3 teams from University of Toronto, 3 teams from Osaka University and 3 teams from NUS). It was observed during the competition that although the UoT teams spent more time on drawing and discussion, they used a shorter time in building their structures. Their strategy enabled them to clinch the 1st and 2nd prizes while the 3rd prize was won by the NUS team.
Report on trip to Himeji Castle
Students from the National University of Singapore, the University of Toronto, the University of California, Berkeley and Osaka University went on a trip to Himeji Castle on July 11,2014. The UNESCO World heritage castle was built more than 400 years ago and is famous as the most beautiful castle in Japan. Recently, the place is gathering more attention due to a historical television drama and its five-year long renovation. Because of continuing renovation, students could not go inside the main tower, but visited most of the area and learned about the Japanese traditional castle from a local guide.
Report on Student workshop in Osaka University
The student workshop was held over three days (24-26 June) at the Graduate School of Engineering Science and the School of Engineering Science, Osaka University, Japan, with participation of 26 students from National University of Singapore, University of Toronto, University of California, Berkeley, KTH Royal Institute of Technology, and Osaka University. This event, organized by Osaka University students, provided a platform for participants to discuss topics such as the necessity of Engineering Science; the difference between Engineering and Science; current curriculums and principles of each university; and the future development of Engineering Science.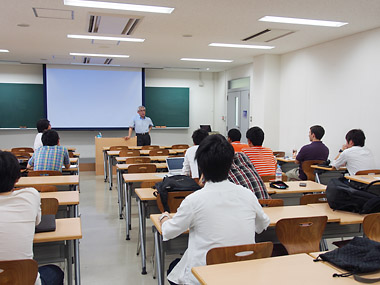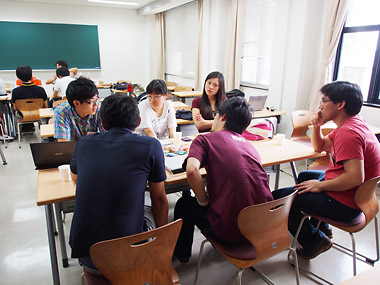 The workshop was the first major event by the International Engineering Science Consortium since its formation in December 2012. It was not only a great opportunity for students but also for professors to rethink what Engineering Science is - and what it should be.
We found that while the concept of Engineering Science varies slightly with each university, taking a multidisciplinary approach to problem solving is the gold standard for Engineering Science.
Sharing of information among universities is important in order to come to a common understanding and one of the Engineering Science Consortium's roles is to make the connection between academics and society.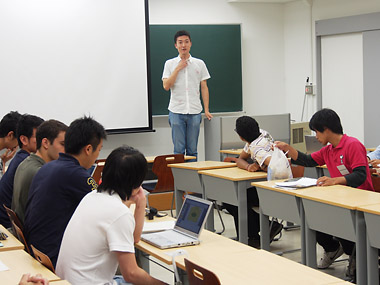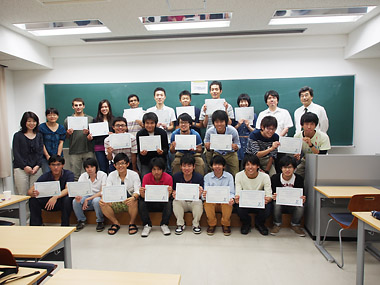 Mr Teruhiko Saito, a doctoral student from the Osaka University, chaired the discussion on the final day. Besides discussions, participants also went on a trip to Kyoto. After a Japanese lunch, they put on the "Yukata" and visited Kiyomizu-dera. They looked so cool in traditional Japanese costumes that many tourists gathered round them and took photographs with them.